On July 22, 2020, I attended a #FreeBritney rally for the first time. Kevin Wu had asked me to attend in order to increase attendance, and I showed up to support him.
To be honest, I had no idea what happened to Britney Jean Spears in February, 2008. Tess Barker and Babs Gray of Britney's Gram came over to introduce themselves and handed me a few documents from the file. This would be the first time I had learned that Britney had attempted to retain an attorney named Adam Streisand.
Quarantine allowed me time and opportunity to take a deeper dive and I was even more shocked to read that Mr. Ingham had provided a "report" to the court that claimed Britney lacked capacity to retain Mr. Streisand. It only got worse from there.
Suffice it to say, I am very certain that Britney's conservatorship was the result of numerous violations of her constitutional rights and that the trauma, exploitation and abuse she so passionately described on June 23, 2021 was a direct result of the injustice perpetrated against her.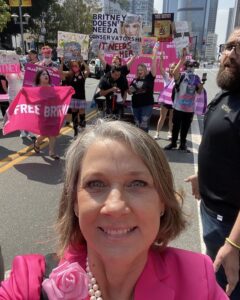 Thank you to the brilliant, intuitive and dedicated people of the #FreeBritney movement. You were so very right, and your cause is so very righteous.